the entire month of September
A week is just not enough time to celebrate our nannies that mean so much to the families they work for. This September, we'll be sharing some of our most talented provider's stories, inspiration and awarding fantastic prizes each week!
How To Enter*
Like, Follow & Share us on Social Media
Winners will be selected each Friday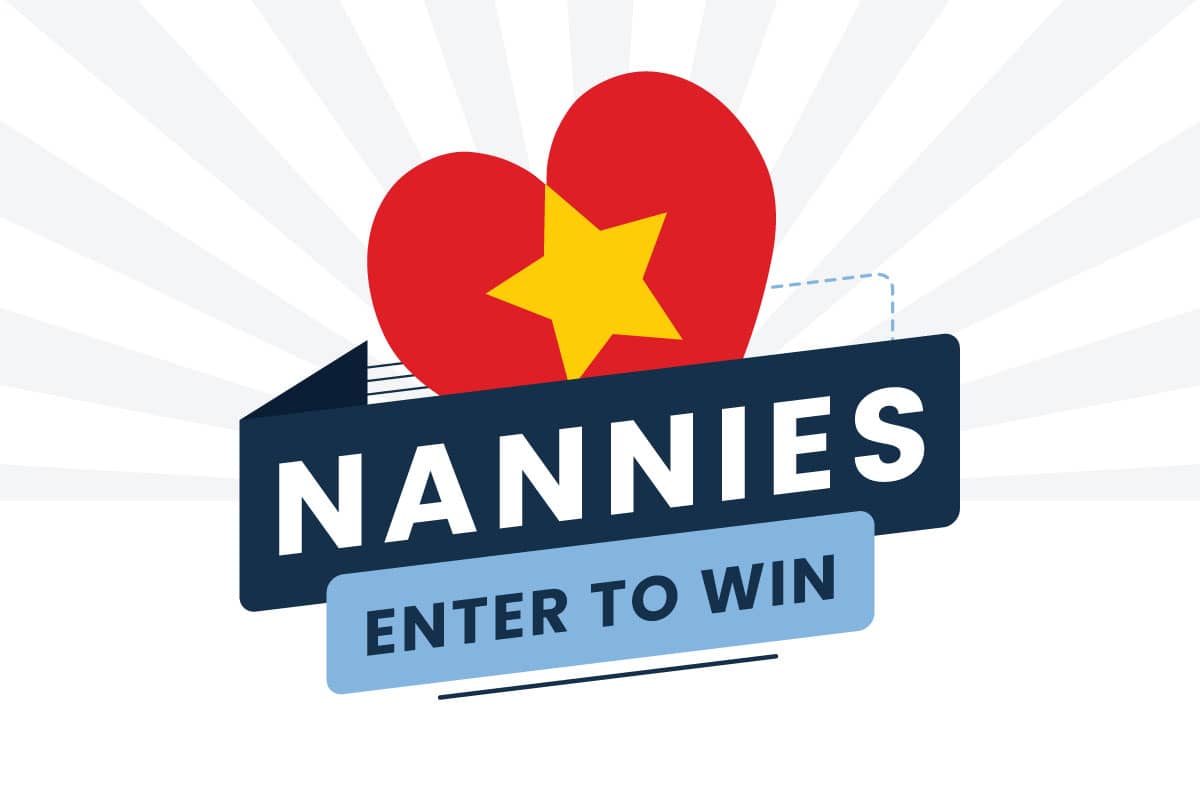 NNRW Prizes and Sponsored Giveaways
We're pleased to announce that many of our industry partners and friends have generously offered additional prizes for our National Nanny Recognition Week prize extravaganza!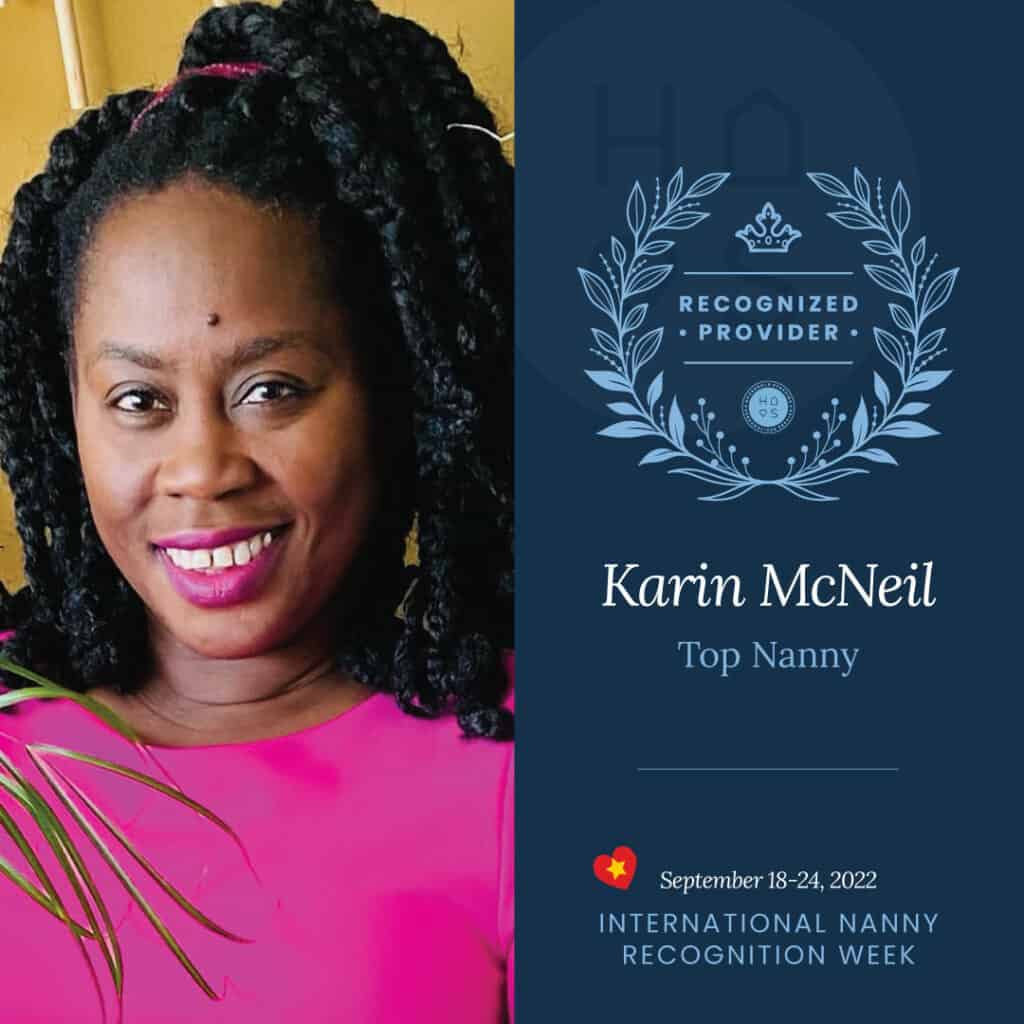 Household Staffing recognizes Karin McNeil as one of our Top Nannies. Karin came to us with over 20 years of experience as a nanny in the Philadelphia area. She has worked with infants up to 17 years old and has experience with special needs children.

Karin will do whatever is needed for her family! She even took driving lessons and learned how to drive for a family that wanted to hire her. Karin was with one family for over 17 years and is described as flexible, reliable, always happy and a fantastic role model. She also is a great cook!
We placed Karin in 2021 with a family in Philadelphia who have a baby girl and she is loving every moment. She has traveled with them to Italy, Connecticut, Arizona, the Hamptons and down the shore.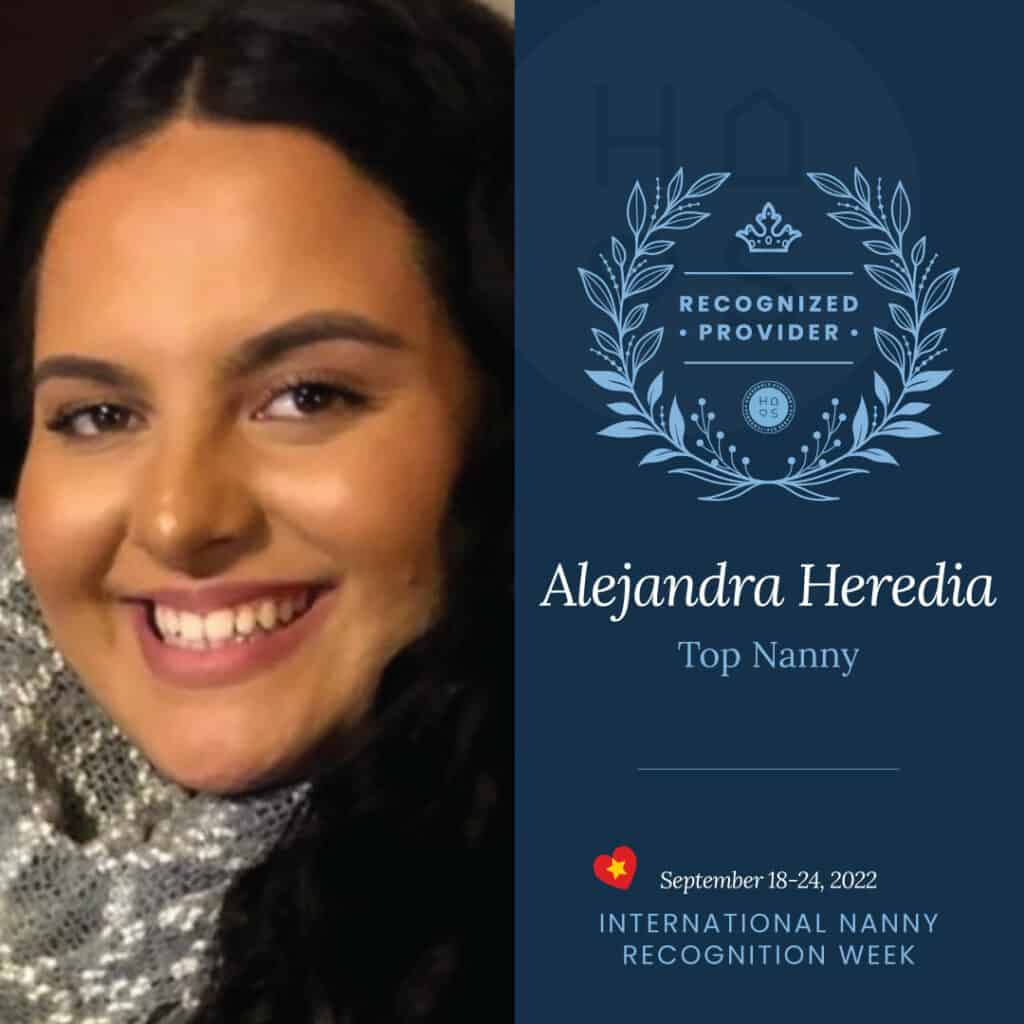 Household Staffing recognizes Alejandra Heredia as one of our Top Nannies! We introduced Alejandra to one of our families in January and they knew just from the Zoom call that she was the one! After her first trial, our client said their daughter "never took to someone so quickly before". She has been with them since February and loves working with their two little girls. 
Alejandra doesn't only bring nanny skills, but also has worked in education serving autistic children. She is the type of nanny that will get down on the ground and play Barbies, bake or do arts and crafts to keep children off screens. Her previous families highlighted her flexibility to stay late when needed, communication skills and commitment. We are so happy to have found Alejandra a wonderful family to work for!

Thank you Alejandra!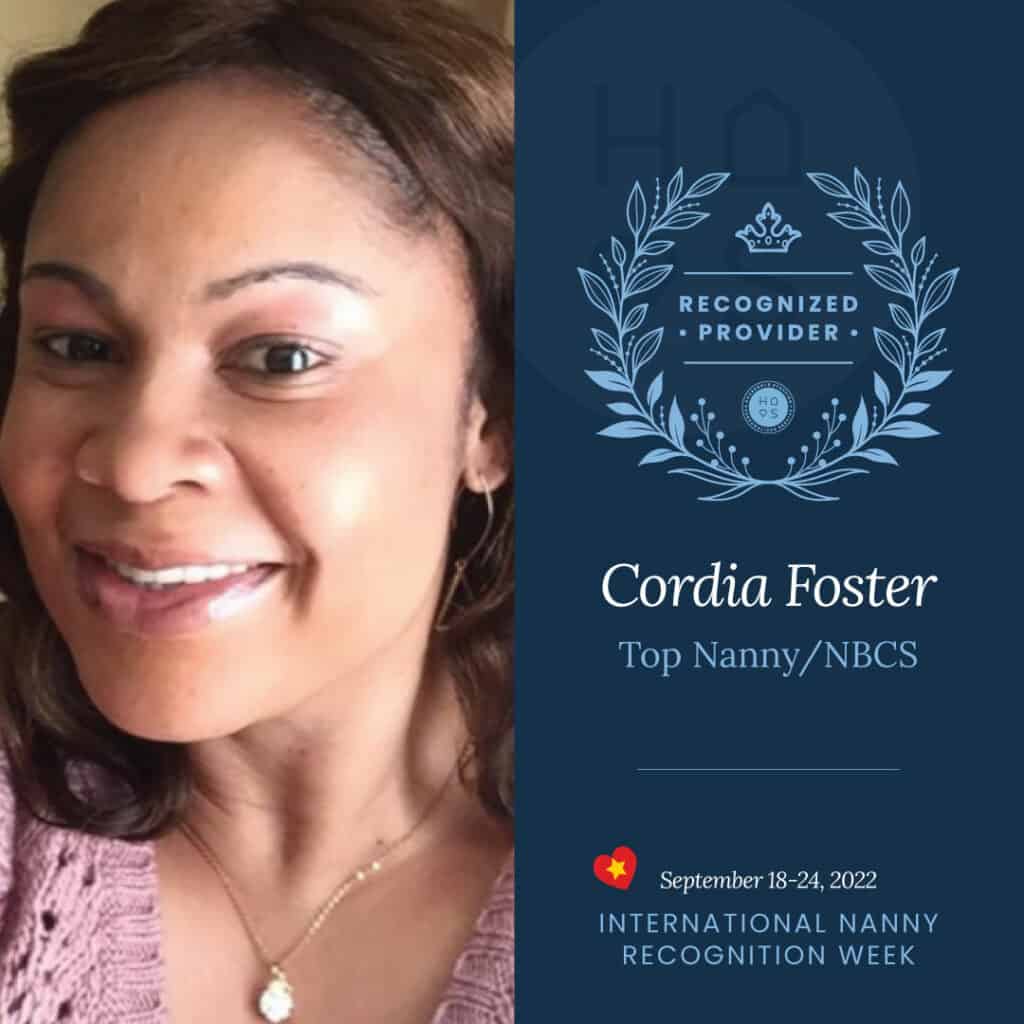 Household Staffing recognizes Cordia Foster as one of our Top Nannies/NBCS. Cordia is a trustworthy, honest, and warm woman who has cared for healthy newborns, premature newborns, newborns with special needs, and children in various capacities for the past 20-plus years.
Cordia has helped single parents, and countless families, including multiple high-profile clientele, care for and nurture their newborns while guiding them through every aspect of infant care, including sleep training, feedings, and developmental stages into the toddler years.
We have had the pleasure of placing Cordia with multiple families and look forward to matching her with families in the future.

Thank you Cordia!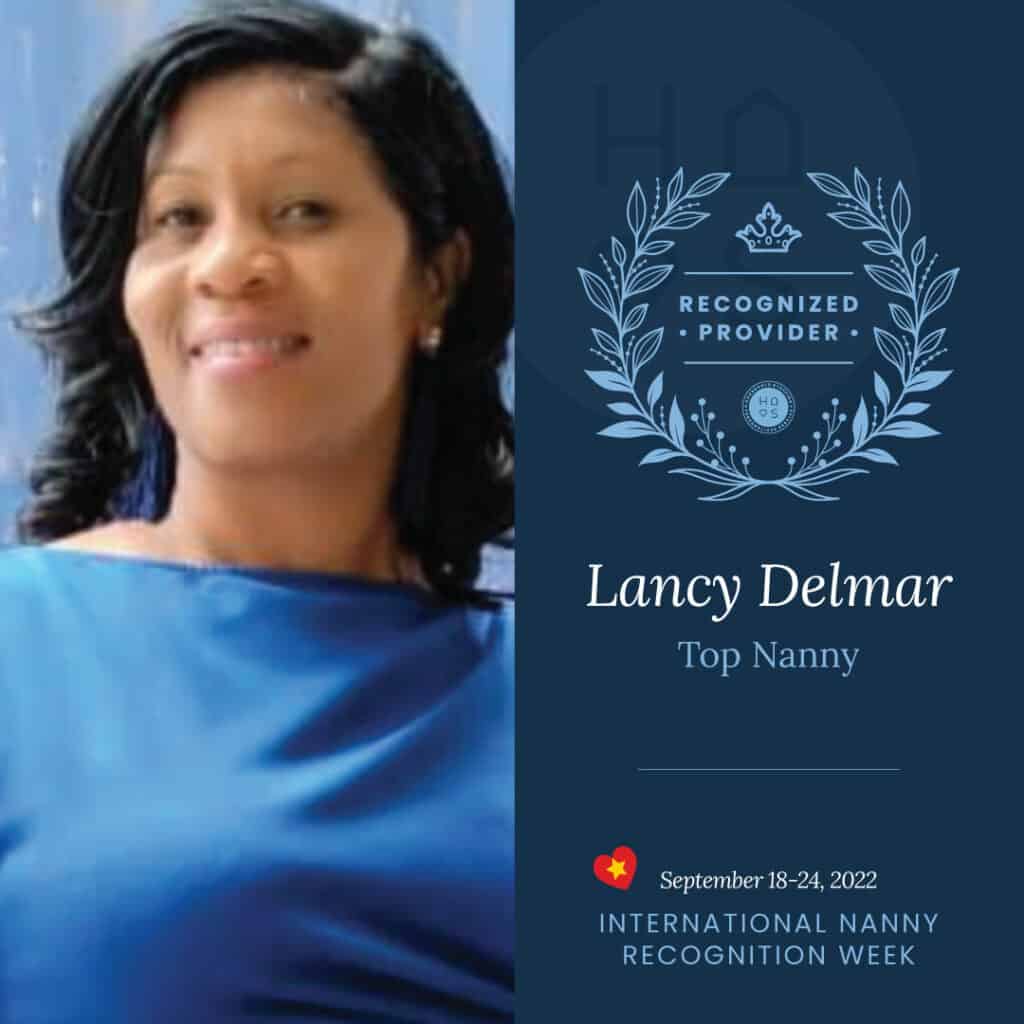 Household Staffing recognizes Lancy Delmar as one of our Top Nannies. Lancy is a compassionate professional nanny with 15 years of experience offering one-on-one care for children. She is an expert at guiding conversations with children about engaging topics, such as hobbies and interests. Lancy is experienced in child psychology, educational support and behavior modification. Her pleasant demeanor coupled with her expert organizational skills has helped her advance as a career nanny and is an invaluable resource to the families she works for.
Thank you Lancy!
Household Staffing recognizes Sandra Whyte as one of our Top Nannies/NBCS. Sandra is a dedicated professional with over 30 years of experience working as a NBCS, Night Nanny, and Full Time Live In Nanny. She is an experienced Baby Nurse and is skilled in sleep training and postpartum support.
As a trusted partner, Sandra provides loving support and guidance from the early stages of infancy through the adolescent years. She has a wonderful loving spirit with a pleasant personality and is able to calm the babies she cares for with her nurturing care, a beautiful song, and even a nightly read.


Thank you Sandra!
*Household Staffing National Nanny Recognition Week September Giveaway begins September 1, 2022 and ends September 30, 2022. No purchase necessary to enter. Giveaway limited to entrants who are currently employed or previously employed as a Nanny, Nanny Caregiver, Nanny NBCS, Nanny Housekeeper, or other capacity in which "Nanny" is the primary employment capacity. Prizes established but not limited to: September 5-9; $150 gift card, September 12-16; $150 gift card, September 19-23; $500 gift card, September 26-30; $150 gift card. Qualifying entry requires Household Staffing social media (Facebook, Twitter, LinkedIn, Instagram) to be Liked/Followed by the entrant's personal relative account and shared by the entrant's personal relative account. Household Staffing reserves the right to disqualify any entrant for any reason. Gift card will be chosen by the winning entrant upon notification of prize award. Please allow 6-8 for receipt of chosen gift card.